Our Vision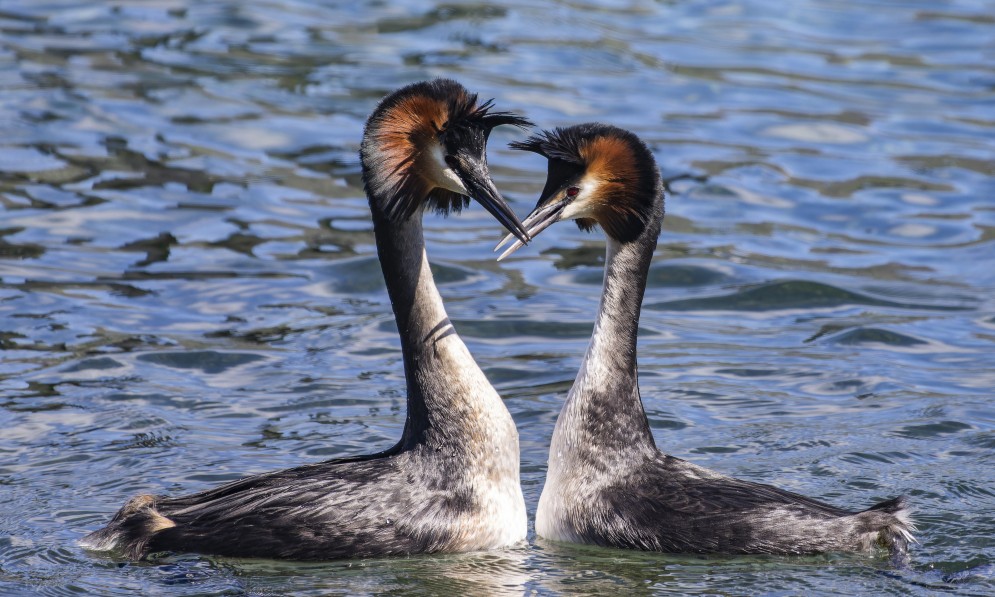 Pūteketeke / Southern Crested Grebe pair doing a courtship dance on Lake Wānaka. Image by Oscar Thomas.
The branch is active in numerous projects related to the conservation of native flora and fauna, and the preservation of valuable natural landscape features.
The branch is represented in several other groups with related interests in conservation and public access to the high country, to the Clutha River and to reserves containing flora and fauna of special interest.  
Our Projects
An ongoing participation with the Department of Conservation in a stoat control project in the Makarora Valley, to protect a breeding area of the native Mohua (Yellowhead) and other native birds.
Supporting the Lake Wānaka Grebe Project team to manage and monitor a breeding population of threatened pūteketeke / southern crested grebes (elected NZ Bird of the Century in 2023!)
Inspecting and making submissions in response to tenure reviews of high country properties;
Arranging weekly weed-control and native planting on the foreshore of Lake Hawea;
Weed-clearing and replanting in the Lindis Pass reserve;
Numerous planting events and wilding pine control efforts.
Project completed: Why do some rat traps catch more rats? 
Across New Zealand, hundreds of community groups are trapping rats and other predators to increase survival rates of native birds and protect native vegetation.  Almost all trappers want to know why some of their traps catch more rats than others. We don't have much reliable knowledge on micro-habitat influences on trapping success; we don't really know the best places to put traps to optimise catch rates.  
To answer the question: why do some traps catch more rats?,  Central Otago Lakes Branch of Forest & Bird (COLB), an experienced local community trapping group with a large trap-catch data set going back to 2006, combined with the Wildlife Management Programme at the University of Otago. Funding was obtained in 2020 from the Curious Minds programme, administered by Otago Museum, and Otago University MSc student Peter Doyle took on the project. It has now been completed, with the final report submitted early in 2022.
Peter, with help from some COLB trapping volunteers, surveyed the local environment around a subset of the 400 traps at Makarora, looking at variables such as vegetation type and height, presence or absence of some plant species, aspect, distance from water, roughness of the ground, proximity to tracks or pasture.  He then compared these environmental factors against the long-term rat catch data from the COLB trapping programme.
An integral part of the Curious Minds programme is education, and outreach to schools was built into the Rat Traps project.  One outcome is the Hawea Flat School is now setting up its own trapping project on the Hawea River, integrating trap environments, predator conrol, bird counts to monitor trapping success, and an overall insight into the complexities of biodiversity.
Peter's study showed that where traps are sited near small trees and shrubs under the bush canopy, like karamu, putaputaweta, horopito, mingimingi and round-leaved Coprosma, they catch more rats. These species produce rat food, and  also tend to be twiggy with thin branches and often dense foliage, preferred habitat for climbing ship rats.  Where traps are under mature beech forest with little understory, they catch fewer rats.
Using these environmental factors, rat traps can now be placed at sites which should catch more rats.  The challenge now is to apply the findings, and extend the study into different environments. Peter's research results have been reported in the Forest & Bird magazine, and are soon to be published in the New Zealand Journal of Ecology.  They will also be posted on the SLS web site http://southernlakessanctuary.org.nz/about-southern-lakes-sanctuary/reports-reference/
Carbon Accounting / Our Footprint
In our commitment to environmental balance, the Central Otago Lakes Branch of Forest & Bird have been accounting for our Carbon Emissions caused through conservation work.  Our estimates include a range of sources, with most of our emissions being incurred through travel.
For 2018 we estimated our emissions to be 5 Tonnes Co2e. This was offset with a donation of $150.00 to Te Kakano Nurseries for native planting: https://www.tekakano.org.nz/carbon-offsets ($30/tonne Co2e)
For 2019 we have estimated our emissions to be 8 Tonnes Co2e. We are in the process of securing locations in which plantings can be made and accredited for offset. This will be expanded upon in future years to continually address our environmental impact. Our focus is on planting projects that offset carbon whilst also enhancing local native habitats.   https://ekos.org.nz/
We are looking to fully address the impact of our charity's activities nationwide. Our remit to adopt a net Zero-Carbon approach was accepted for implementation at the Forest & Bird 2018 national Annual General Meeting. The methods of Central Otago Lakes branch for carbon accounting have been published as part of Forest & Bird's branch guidance materials.
We urge all our members to calculate their own emissions: https://ekos.org.nz/lifestyle-calc and offset!
Branch Program / Field Excursions
The Central Otago-Lakes branch committee arranges an annual programme of talks and visits to areas of interest, including both one-day and two-day trips. These take us to places as near as the Old Man Range and as distant as Doubtful Sound.
As we get closer to the time more information will be available for these trips, keep an eye on our branch page and newsletter!
Connections:
Forest and Bird Facebook Page: 
Southern Lakes Sanctuary (SLS):
Wanaka Backyard Trappers Facebook page:
        https://www.facebook.com/wanakabackyardtrapping/
Whakatipu Wildlife Trust (WWT):
      https://whakatipuwildlifetrust.org.nz
Branch Newsletter: Voice for Nature
View our latest newsletter here: Voice for Nature January-March 2023
Previous newsletters:
Voice for Nature July-December 2022
Voice for Nature April-June 2022
Voice for Nature - January-March 2022
Voice for Nature - Nov-Dec 2021
Voice for Nature - September-October 2021
Voice for Nature - July-August 2021