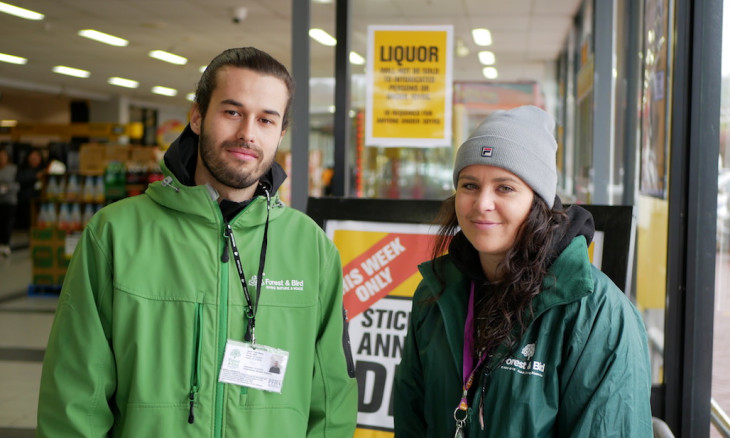 Fundraising around the country
Face to face fundraising plays a major role in signing up people to the Forest & Bird family of regular supporters.  The people who are there for nature with monthly, weekly, fortnightly, quarterly or annual donations.  They give nature a big voice and allow the long battles to be waged.
Our face to face fundraisers work the length and breadth of Aotearoa New Zealand talking about nature and how people can support with a regular gift. They will always wear clearly branded Forest & Bird clothing and official name tags. In the light of COVID, fundraisers practice safe social distancing and wear masks when required. 
For any questions to do with face to face fundraising, please email naturesfuture@forestandbird.org.nz or call 0800 200 064.
Location  

Site 

Dates 

Malls/Shopping Centres 

Auckland

Lyn Mall

27.11.2023 – 02.12.2023

Whangarei

Paramount Plaza

27.11.2023 – 30.11.2023

Whangarei

The Warehouse Whangarei

27.11.2023 – 28.11.2023

Whangarei

New World Onerahi

29.11.2023 - 29.11.2023

Dunedin

Meridian Mall

27.11.2023 – 02.12.2023

Dunedin

Countdown Andersons Bay

27.11.2023 – 02.12.2023

Dunedin 

New World Gardens

27.11.2023 – 02.12.2023

 

Door to Door

 

Christchurch

KAIAPOI

27.11.2023 – 02.12.2023
| | | |
| --- | --- | --- |
| Christchurch | HALSWELL | 27.11.2023 – 02.12.2023 |
| Christchurch | PAPANUI | 27.11.2023 – 02.12.2023 |
| Christchurch | ST ALBANS | 27.11.2023 – 02.12.2023 |
| Christchurch | BURWOOD | 27.11.2023 – 02.12.2023 |
| Christchurch | BISHOPDALE | 27.11.2023 – 02.12.2023 |
| Christchurch | ROLLESTON | 27.11.2023 – 02.12.2023 |
| Christchurch | WAINONI | 27.11.2023 – 02.12.2023 |
| Christchurch | FENDALTON | 27.11.2023 – 02.12.2023 |
| Christchurch | AIDANFIELD | 27.11.2023 – 02.12.2023 |

If you are interested in joining the Forest & Bird family as a regular giver, we would love to have you on board - you can sign up here