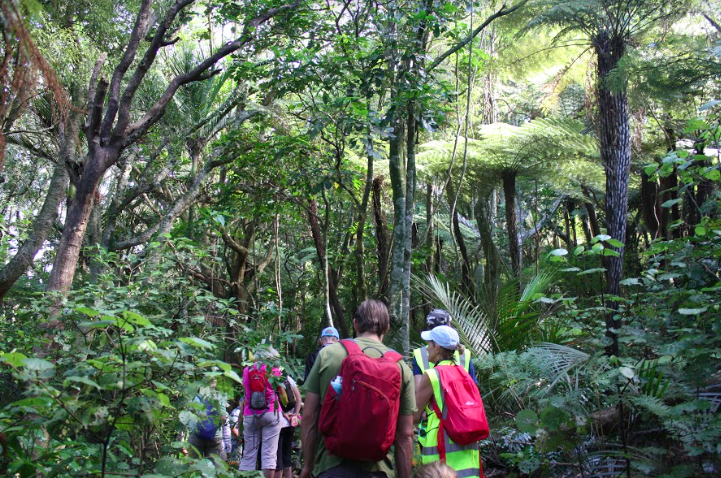 Walking tracks: There are no tracks in the reserve.
Getting there: The reserve is situated at 188 Ranfurly Road Extension, on the northern side of the road 5km east of Manurewa, South Auckland.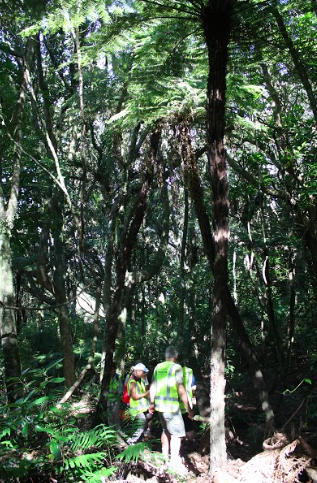 The locals: Common indigenous birds found in the reserve are tui, NZ pigeon, North Island fantail, silvereye and grey warbler.
The reserve contains mixed broadleaf-podocarp forest on coastal hill country. It was milled for kauri, rimu and totara and partially cleared in the past but is now undergoing regeneration. Manuka was first planted in 1980 followed by totara and puriri. Natural regeneration is now well underway. Currently the major pest is the possum but pest control in the area since 1999 has helped to reduce possum numbers.
History: 
The Olive Davis Cottage was built in 1922, designed by the notable New Zealand architect James Walter Chapman-Taylor for Ged and Olive Davis. Ged was an accountant for Fletcher Construction and lived in Newmarket during the week. He used to drive out to Alfriston and live in the cottage at weekends. We are told that Olive had a list of jobs ready for him!
During World War II tanks and personnel carriers from Papakura Military Camp used to practice running up the track to the cottage. Olive would run out shouting, waving her arms which sometimes scared the soldiers who would run off into the bush to hide.  Soldiers also thought it was ideal for jungle skills training but Olive told all intruders to get out.
After Ged died in 1969 she continued to live in the cottage and if she heard strangers in the bush she would let her hair fall-down almost to her knees. Her eyelids were droopy possibly because of the fires she lit to keep bracken away on her paddocks where she grazed her horse and sheep.
Her horse was called "Perfecto". When her horse was older she would go shopping at Manurewa by herself or would lead the horse if it needed horse shoes. If visitors were coming to the cottage she would call out to "Pepe" her pet possum which would leap up onto her shoulder. Her horse stable is still on the reserve but is in poor condition. Olive used to call on neighbouring farmers begging for hay or fertilizer, as if she had no money.
For a while she ran a riding school on her horse paddock, and loved wearing her jodhpurs when riding her horse.
There was no electricity in the cottage so she used kerosene and the old coal range for cooking and heating. Many deer skins were laid out across the floors.  Outside if children arrived to visit she would put up a hammock strung between two trees where they could play.
James Chapman-Taylor helped with the building as well as the design. He made furniture and tiles for the benches and the bath beside the copper fireplace used to heat bathwater. The hand adzed cupboards, beams and lintels are unique.
In Olive Davis's later years she moved to a Mangere Old Persons Home where she died in 1979 aged 82 years, ten years after her husband Ged died. They had no children. Most of the Olive Davis story was told to Forest and Bird members by Syd Owen at the February open-day. He used to visit Olive and lived not far away.
Alan La Roche, MBE
March 2018
 
Reserve Contact
Contact Details:

Branch secretary

Email: