The native plant nursery is helping to put back what we have lost … habitat; There is no better way to reverse this trend than to assist us to continue the supply of young healthy plants to Zealandia, community groups and our own projects.
There are sessions every other weekend on alternate Saturdays and Sundays starting at 1:30pm and also Tuesday mornings starting at 9:00am. All sessions are about 3 hrs in duration and made more enjoyable by the relaxed social atmosphere and the company of kākā, tui, tātāwai and others from Zealandia and surrounding bush. If you are interested in helping please email the coordinator. Take Action!
The nursery began life as part of Wellington Branch members vision of a sanctuary on the site of the Karori reservoir -- a pioneering enterprise that led to the Karori Sanctuary which later became Zealandia, a biodiversity taonga of Te Whanganui a Tara.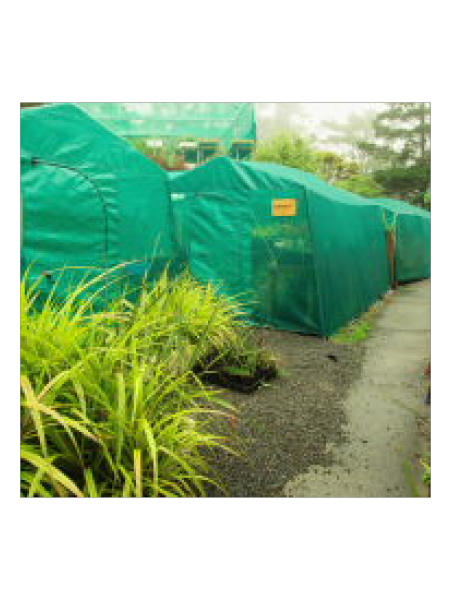 We continue to supply plants to Zealandia from our  Highbury site, which has over 25,000 plants at various stages of growth; and endeavour to propagate 100+ different species many of which are regionally rare. The operation is run and maintained by our members and volunteers from the wider community.
Plants are propagated in shade houses from locally sourced seed and cuttings and supplied to restoration projects in the Wellington region. The operation is funded by grants and donations with any shortfall paid out of Branch funds. It also receives donations of material for its infrastructure.
Why help out.
Land dwelling species (including humans) depend on plants for their survival. Plants provide food, regulate our water, air and climate. They are the foundation of life on this planet. As we destroy habitat (plant life) we cause our birds, reptiles and invertebrates to die out.
We are very grateful to the people who volunteer their time and also to the organisations and individuals who finance the infrastructure and consumable material. Without this support we could not provide this facility. 
Our thanks for the support given by:
Wellington Community Trust

Southern Trust

Mitre 10

The Greenwood Environmental Trust

Lotteries Grants Board

NZ Community Trust

Project Crimon

Stout Trust

James Sharon Watson Conservation Trust

Lion Foundation

Pelorus Trust

Trust House Charitable Trust

Cuesports Foundation

Wellington City Council

Zealandia
---
What can you do
Get involved
Spend time helping out at the plant nursery.

join a community restoration project

start planting native flora

remove invasive pest plants from your garden

advocate for the preservation of all remaining native forest
Useful web sites: